We create meaning and charge objects, humans and events with it. Civil meaning-making is sharing experience of any diversity, strengthening solidarity and mobilising communities. Political meaning-making reinforces people in power struggles. It purposefully dramatizes political life. Meaning-making in business creates iconic objects - brands. We bring meaning and joy to their owners and target communities.
Our Story
Ideology by The Parents, Kristína Převrátil Alexy and Jan Převrátil: partners, wife and husband, parents, humans. It's been ten years since we decided to work freely. Until then, we sold part of our personal freedom for the security of wage. At that time our son was born, we lived in a rented flat, the remains of economic crisis were in the air. Our decision didn't look reasonable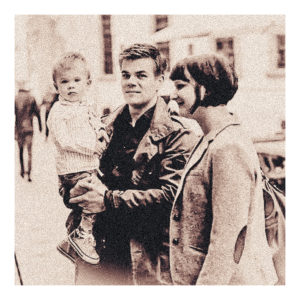 We didn't even have a breathtaking business plan. We've had experience in advertising, research and related fields. We both studied sociology and over the years of employment we've established ourselves as strategists. Nicely said, we were highly specialized. Badly said, we found ourselves in the very center of the so-called bullshit jobs (we recommend the book by anthropologist and anarchist David Graeber).
The work we did in our jobs was often useless at best, harmful at worst. And yet (or precisely because) that we worked for well-known names and brands. At this point in our story, a completely different turning point would suit better. It would be beautifully easy to write: and so we started baking bread ´cause bread is tangible and feeds people. That didn't happen.
Up to these days we mainly sell intellect and its aesthetic portrayals. And we try to close the gap arisen in the conflict between our own punk and highly perceptive selves and the shallow market segment called marketing and advertising. We call it meaning-making, the creation of meaning.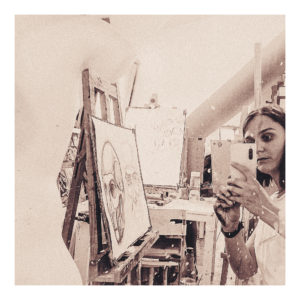 We don't disguise marketing into nicer clothes. We rather shout out the famous "the king is naked!" but in that nudity we also see realization. Limited only by ability of imagination. We're building our own segment because we didn't fit into any other. And we're free in it as anything goes (we recommend the philosopher of science P. K. Feyerabend).
We create the meaning of things, events, people, decisions and we look for it again and again ourselves, too. We also look for specific expressions, through photography, text, image, video, event, any other meaningful totem. We remain absorbed in that variety, we aren't bored. There's not much we cling to, so we can't lose much. We don't lose ourselves, on the contrary, we always find our new dimensions.
We've had no rocket success. Nor can it be said we're doing better over time due to our patient work. It's quite possible that the category of success in its standardized form doesn't apply to us, at all. As we find out, nothing of a standardized form applies to us. And the journey of our perfectly out-of-the-box son confirmes that, too.  
We call ourselves Ideology and for us ideology is no evil, but a construct of meaning, plot or story. People have given the world meaning since ancient times. We live the same way. We live stories and we are full of contradictions. It may not look like rational decision, but that doesn't mean it's wrong. Progress for us isn't some ultimate deliberation from stories, but rather awareness of the story and its boundaries.
We can relate to the image of legendary Phoenix. A fiery bird that always reappears out of its own ashes. We're not afraid to burn. We have been decomposed into the smallest indivisible parts, into ashes, so many times, that we find strength in it. What's indivisible cannot be divided, that's certain. That's is exactly how we want to go on. Search for gravitational moments, concentrated meaning, experience and play with it in all its (un-)imaginable forms. In our case, we didn't arrive at a different business plan, yet.

The Parents, s.r.o.,
Janotova 6, 841 04 Bratislava, Slovak Republic
ID: 48096491, TAX ID: 212005072